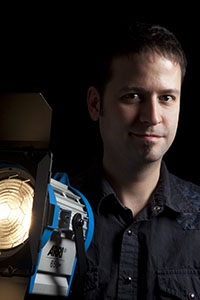 Michael Pearce, St. Louis Filmmaker
About Michael
I am Michael Pearce, an amateur filmmaker in the St. Louis area. I am always looking for short film projects that have potential. I am also available as crew for zero-budget film productions.
Film Crewman
It is my pleasure to contribute as crew on well-organized, zero-budget film productions. I can fill any production crew role of an amateur film project, but I am primarily interested in the following positions. In each case, I come with a fairly complete set of equipment.
Recording of dialog and on-location sound effects using a boompole and microphone, via a digital recorder or mixing into the camera. Bad sound is the #1 weakness of amateur film.

Assistant Director
Current Projects
I have had an idea for a visual style I would like to use for a short film. I am keeping it close to my vest, and all I will say about it publicly for now is that it must be shot outdoors in nature, and it will result in a very ethereal look.